National Graduate and Professional Student Appreciation Week celebrates the 5,000 plus graduate and professional students that make the University of Iowa a great place for research and learning. Originally started in 1993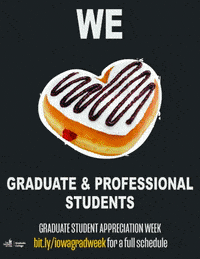 by the National Association of Graduate-Professional Students as a way to show appreciation for the contributions, impact, and value of graduate students nationally and supporting their wellness and professional development.
This year, the Graduate College has joined with the Graduate Student Senate and the Graduate and Professional Student Government to encourage a week-long celebration of our graduate students.
How you can Appreciate your Students
Graduate & Professional Student Appreciation Week has been moved to April 20th-24th.. To make an extra effort to show your student how much Iowa appreciates their hard work and dedication year-round. Here are some ways you and your department can show your appreciation. We encourage all faculty, staff, and students to come up with your own ideas and events focused on celebrating the contributions of graduate and professional students. These could be: a social media campaign, a virtual coffee break, Netflix/YouTube Party, virtual mind and wellness webinar, etc. Please feel free to use the appreciation posters for virtual events announcements and post them on social media! 
GRADUATE STUDENT APPRECIATION FORM
 It's important to recognize the impact of our graduate students at the University of Iowa! You can fill out this form and we will send them an email with your recognition to show your appreciation! You can also find this form at bit.ly/GradAppreciationSurvey 
cAMPUS-WIDE Events
In an effort to maintain the health and safety of our students, faculty, staff, and greater community, we have planned some virtual events during Graduate  Student Appreciation Week. 
All Week Social Media Campaign for Graduate & Professional Students:  
Post pictures of and/or with your pets and be sure to use the hashtag #UIGradPet 
Tell us your stories and be sure to use the hashtags #UIGradStudent #ILoveGradProfStudents #GPSAWeek 
Monday, April 20, 2020 
Tuesday, April 21, 2020
7:00 pm CT - YouTube Watch Party (download Metastream)
Wednesday, April 22, 2020
Thursday, April 23, 2020 
Friday, April 24, 2020
10:00 am CT - Virtual Coffee Hour (co-sponsored by AMS & Cortado) – cookie/coffee curbside pick-up
Please RSVP to specific events through this Google form. 
Hashtags 
#UIGradStudent 
#ILoveGradProfStudents  
#UIGradPet 
#GPSAWeek 
Tags 
@UIGradCollege  
@UIowaGSS  
@NAGPS 
Let us know your efforts and please promote tags in your social media with a photo featuring UI graduate students.  
If you have any questions or concerns please reach out to Vivian Sheridan.
Graduate & Professional Development Week events are sponsored by:
Graduate College

Graduate Student Senate

Graduate and Professional Student Government

University Counseling Service

Office of Sustainability and the Environment

Campus Recreation and Wellness Center